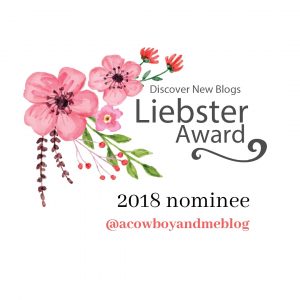 Thank you again @SouthernSimpleBlessed for nominating me.  I am truly honored and speechless and that never happens!
The Liebster Award started in 2011 and is an online award that is given to bloggers by other bloggers.  I feel as though being nominated for this award made me a winner already, I truly did not expect this in my short blogging career and am so appreciative of this nomination, thank you again Southernsimpleblessed.com!
The winner will be announced at the end of the year.
Along with this nomination I have to tell you 10 random things about myself, answer questions, nominate others and give them questions to answer.
So here goes:
10 random things about me:
1.  I love watching Elvis movies.
2.  I laugh daily thanks to Cowboy.
3.  Traveling fuels my curiosity for the world.
4.  I would rather be mowing the lawn than doing a chore inside the house but
Cowboy has restricted from using such equipment.
5.  I love to run but I hate to sweat.
(let me know when you figure out how I can make this work, ha ha)
6.  My favorite musicians are Bob Marley, Il Divo, George Michael and Blake Shelton (in that order).
7.  Gift giving is my love language.
8.  I never need an excuse to eat chocolate.
9.  I can re-arrange furniture in a room in my head.
10.I only remember people names and stories if I picture them upside down.
Questions about me:
If you could go back and tell your 18-year-old self one thing, what would it be?
ANSWER:  Don't be afraid to explore the world.
If you could wake up anywhere in the world tomorrow, where would it be and why?
ANSWER:  Somewhere tropical with sand between my toes and an umbrella drink in my hand, listening to reggae music.
Do you have a favorite place or thing you do to unwind, if so where and what?
ANSWER:  In my hammock looking up at the sky.  It takes me to my happy place.
Which one would you choose A) 8 hours of sleep per night? B) a self-cleaning house C) Your kids never fight with each other or complain D) someone to run all of your errands?   ANSWER:  B a self-cleaning house….most definitely.
Which color would best describe you and why?  ANSWER:  Cheetah print (I consider it a primary color). It's wild by nature but can be calming at the same time.
If money wasn't a problem what would you do? ANSWER:  End child and elderly hunger.
What habit would you most like to break and what habit would you
like to start?
ANSWER: I would try harder to "live in the moment".
What excites you and scares you at the same time?
ANSWER:  Learning about myself during each chapter of my life, celebrating my accomplishments and how I handled the challenges.

Imagine your 90, what memories do you want to have?




ANSWER:  Now you're speaking my language…memories, memories and more memories.

What do you want people to remember you for?




ANSWER:  That I lived true to myself and taught my children to be the best version of themselves.
Blogs that I nominate:
@ITSALLCHICTOME
@APIECEOFTOAST
@LIVVYLANDBLOG
I loved the questions I had to answer, so I'm passing them on to my nominees!
Check out their blogs for great ideas on lifestyles and living life.