Have you ever said something that you immediately regretted the moment it came out of your mouth?
Then here ya go:
Everyone knows that Cowboy is an early riser.  Sometimes he wakes up at 4 in the morning and sometimes he wakes up somewhere in between p.m. and a.m.  I call that time period INSANE but let me know when you figure out the correct name for it.
One weekend Cowboy, Sweetgirl and myself were road trippin to Topeka, Kansas to watch Boy Wonder compete (yes this is the same trip where I had eaten all of the snacks within two hours) no judging please.  We had left Pidcoke later in the evening so we decided to stay the night in a hotel mid-way instead of driving thru. By the time we got to the hotel it was nearly midnight and we were all exhausted.
COWBOY:  What time will you ladies be ready to head out in the morning? I would like to be on the road by 7 a.m.  Do you think y'all can handle that?
ME:  (looking at Sweet girl) He acts as if we don't know how to wake up at a reasonable hour.
COWBOY:  Look, this is not my first rodeo with you two.  You like to stay up late and wake up even later.
ME:  (speaking to Cowboy)  You know what?  Just wake us up when you get up cowboy.  You'll not hear 1 complaint from us!
COWBOY:  Alrighty then.
Sweetgirl and I had decided to get some sleep instead of talking into the wee hours of the morning. I wanted us to be bright-eyed and bushy-tailed for the wakeup call. I had laid my head on the pillow when I started to drift off to sleep.  Hoping my recurring dream would visit me again. The dream where I'm laying on a beach, eating a chocolate dessert with an umbrella drink in my hand. And don't act like you haven't dreamt the same thing.  All of a sudden I hear Cowboy whispering in my ear (wakey wakey sunshine).
ME:  (groggy and wiping the hair out of my face and probably the drool from my mouth) what time is it?
COWBOY:  It doesn't matter, you said to wake you up when I got up.
ME:  (gently shaking our Sweetgirl) It's time to get going. Ill take a shower first so you can sleep a little longer.
SWEETGIRL: I feel like we just went to bed but ok, you go first.
Sweetgirl and I were showered and packed but still moving a little slow.  We looked like Linus from Charlie Brown, but instead of dragging a blanket, we were dragging our feet. Cowboy comes to help us with our luggage (such a gentleman).
ME:  Why is it still dark outside?  What time is it?
SWEETGIRL:  (checking her phone with on eye open)  It's 2:00 a.m.
We both look at each other and then look at Cowboy.
ME: 2:00?! ARE YOU INSANE?! Why did you wake us up so early?!! It's a good thing that you look good in those wranglers because otherwise I would absolutely punch you in your throat right about now!
COWBOY:  (chuckling) Do I need to remind you of our conversation last night?
ME:  No AND I said a reasonable time! What weirdo goes to bed at midnight and wakes up at 2:00 a.m. without an alarm? You are all kinds of crazy.
SWEETGIRL:  Dad, the next time mama includes me in a conversation, ignore her.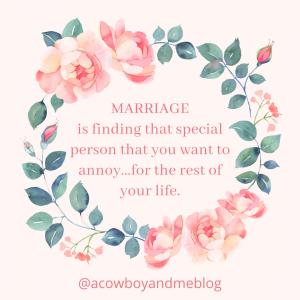 'til next Sunday y'all- Tammy