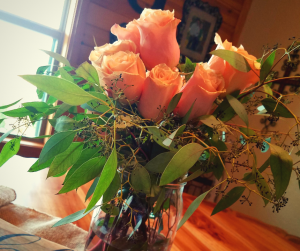 One of my favorite things to treat myself to each week is fresh flowers.  There is no other way to brighten a room like a beautiful bouquet of them. I love to change out the color schemes of the bouquet depending on the season.  This week I chose PEACH ROSES.  There's nothing better in Texas than roses in the summer time!  And, peach happens to be one of my favorite colors.
Here are some tips on how to make your flowers last longer:
 Snip the ends off in a diagonal.
 Remove unwanted leaves off of the stems.
 Make sure vase is clean and void of any dish soap.
 Fill the vase with cold water, drop a couple of ice cubes in and use the         packet of flower food.
 Replace water every 3 days.